About Vision Professionals of Leawood
At Vision Professionals of Leawood, our Leawood optometrist is proud to provide our surrounding Kansas community with the best of what optometry has to offer. Since 2012, Dr. Ohde has helped hundreds of people just like you achieve better eyesight, better eye health, and a better outlook on life.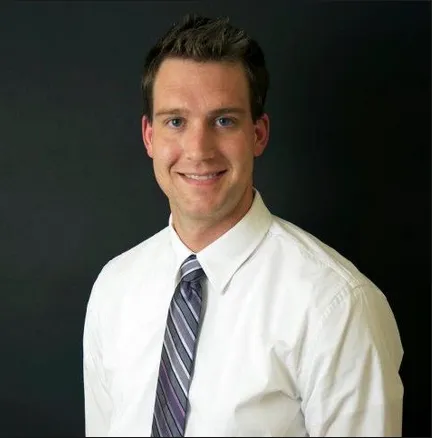 Let Our Eye Doctor in Leawood Help you To See a Brighter Future
Vision Professionals co-founder Dr. Tyler Ohde has been a licensed doctor of optometry since 2008, with a special interest in contact lens fittings and pediatric optometry.
Dr. Ohde spends time volunteering in his community to help spread awareness about vision and eye health problems. He also care deeply about advancing his own professional education and skill sets, which is why he is a proud member of both the Kansas Optometric Association and American Optometric Association.
He has handpicked every member on his staff to promote a friendly, warm, and welcoming environment for every patient that walks through the doors. When you call or visit Vision Professionals of Leawood, you can expect to be treated with respect and compassion. Dr. Ohde and his staff take the time needed to answer all your questions and help you have a positive experience while working with them.
We Offer the Finest In Leawood Eye Care
Our vision is a better vision for you! We offer a variety of Leawood eye care services and state-of-the-art technology to help you see and look the best possible. Services include:
Comprehensive eye exam
Pediatric eye exam
Contact lens exam and fitting, including hard to fit contacts
Pre- and post-operative eye surgery care
Low vision and sports vision
Conditions Treated By Our Leawood Eye Doctor
Dr. Ohde encourages everyone to have their eyes thoroughly examined by a Leawood eye doctor at least once a year--even if your eyesight is perfect! Many eye diseases don't develop symptoms until long after the disease has already progressed. Early detection is key to improving outcomes and slow or reversing the disease process.
Dr. Ohde routinely diagnoses and treats a variety of eye health conditions, including:
Nearsightedness and farsightedness
Amblyopia
Astigmatism
Macular degeneration
Glaucoma
Cataracts
Diabetic retinopathy
And more!
Contact Dr. Ohde for Your Annual Eye Exam Today!
We'd love to help you and your loved ones experience the difference in eye care excellence. To schedule an appointment, call Vision Professionals of Leawood today at (913) 239-9446. From our family to yours, we look forward to working with you!